"My grappling hook launcher, made to look like an umbrella."
— Trilby, upon examination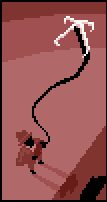 The Grolly is Trilby's signature tool, a device of his own design. Within its umbrella exterior is a grappling hook, capable of carrying a full grown man, and a powerful taser. While the taser is only seen in Trilby: The Art of Theft, a departure from the Chzo Mythos series, Trilby makes use of the grappling hook to enter the DeFoe Manor at the start of 5 Days a Stranger and once more during said adventure to swing from the window of Sir Roderick DeFoe's bedroom to the window of son's bedroom.
The name "Grolly" comes from the combination of "grapple", the device's main function, and "brolly", British slang for umbrella.
Ad blocker interference detected!
Wikia is a free-to-use site that makes money from advertising. We have a modified experience for viewers using ad blockers

Wikia is not accessible if you've made further modifications. Remove the custom ad blocker rule(s) and the page will load as expected.